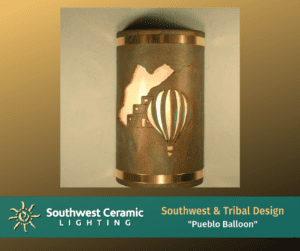 Balloon Fiesta Park-Balloon Launch Site
October 5, 2019 – October 13, 2019
5000 Balloon Fiesta Pkwy., Albuquerque, NM 87113  (505) 821-1000
SCHEDULE
TICKETS 
During this year's exciting Albuquerque International Balloon Fiesta, we have some recommendations for AFTER the balloons have launched in the morning. There are many others, but we feel these are the best ones for this time of year.
Nob Hill – Route 66 – Southwest Ceramic Lighting 
This is a very fun and hip area in the heart of our city. Along this historic route is Southwest Ceramic Lighting. A must stop to see how handcrafted wall sconces are made here in our Land of Enchantment!  (505) 453-0630 for a FREE tour today. 
Rio Grand Arts & Crafts Festival: Balloon Fiesta Show
Sandia Resort & Casino, 30 Rainbow Rd. N.E. (NE Corner of Tramway & I-25), Albuquerque, NM 87113,  505-292-7457 October 4-6 & 11-13 2019 – After the balloons go up! 9-5 Daily: Friday, Saturday & Sunday. Features the work of 200 fine artists and craftspeople from throughout the U.S., offering tourists and residents a unique, world-class art experience Look for the White Tent! A GREAT opportunity to get some Christmas shopping done.  
Historic Old Town Plaza 
October 4, 2019 – October 13, 2019- 12:00 PM to 4:00 PM
bortiz@cabq.gov
(505) 768-3556
12:00 PM to 4:00 PM
Live entertainment will take place each day during the Albuquerque International Balloon Fiesta.  
U-PICK GREEN and RED CHILE
4470 Rio Grande Blvd NW, Los Ranchos, NM 87104
505) 459-0719 9:00 AM to 6:00 PM
Big Jim Farms is opening up the 9 acre farm in Los Ranchos every weekend during September & October for organically grown Green & Red Chile U-Pick and onsite chile roasting. The green chile experience is a MUST when you are in Albuquerque. You will notice an unmistakable aroma of chiles roasting during the  Albuquerque International Balloon Fiesta. 
SANDIA PEAK AERIAL TRAMWAY
30 Tramway Road N.E., Albuquerque, NM 87122Phone: (505) 856-7325
Open During Balloon Fiesta 9:00 am – 9:00 pm
A must stop! Rising from the hustle and bustle of Albuquerque, you ascend one of America's most stunning urban peaks. Reaching the 10,378-foot crest of the Sandia Mountains, an 11,000 square mile panoramic view awaits you. It's an elevation of the body, mind, and soul in a mere 15 minutes.
TICKETS
SW Ceramic Lighting in Your Home
Thank you for your interest in our company, which was established as CDS Kiva in 1999. We are a small family owned and operated American made custom handcrafted ceramic light manufacturing company. For an affordable price, we provide a very unique product that can be made to your specific requirements. SW Ceramic Lighting specializes in USA made, custom, handcrafted wall sconces. Southwest/Tribal, Modern/Contemporary, Beach/Seashore, Lodge/Rustic and Garden/Botanical designs.
 We have created a variety of contemporary designed wall sconces to fit with any modern or eclectic style home or business.
 Accent mountain or lodge lighting with function and designer capabilities.
Accent lighting for your garden or landscaping. Southwest, modern, Asian or botanical themes.
Accent lighting, with function, for Floridian, Cape Cod, Beach or any water front home.
Custom, handcrafted ceiling lights. Over 100 designs and 40 colors to accent your home decor.
Lighting pages that let you create designer lights for the outdoor, indoor, kitchen, bath, living room and hallway by clicking on Custom Design under the "Shop" tab.
Low profile ADA compliant and Dark Sky (Closed Top) compliant lights are available in several models. All of our lights are UL listed for indoor or outdoor locations.